District News
This page will feature news releases by the District relating to meetings, petition and road referendum updates, elections, and more. This page will be regularly updated. If landowners have any questions about a news story, you may contact the District at 561-747-0550 or via e-mail at sirwcd@sirwcd.org.
The District's Notes and News newsletter also provides information of interest to landowners and is mailed out several times per year.

South Indian River Water Control District Holds Ceremony for 1000th Driveway Replacement Culvert Installation
On October 26, 2020, South Indian River Water Control District's Supervisors and staff celebrated the installation of the 1000th driveway culvert. located on 133rd Trail N in Jupiter Farms, as part of the ongoing Driveway Culvert Replacement Program. Shown from left to right: Steve Sears; Philip Walton; Michael Roman; Vice President, Supervisor Tom Powell; President, Supervisor Stephen Hinkle; Supervisor, John Jones; Max Delle; and Supervisor Michael Howard.
As a public/private partnership, the Driveway Culvert Replacement Program has been a great success and is popular with District landowners, offering replacement installation options at a reasonable cost. For driveway culverts in a SIRWCD easement, this cost is typically $350 to cover materials for a single basic 18" x 20' culvert and $700 for a single basic 21'-40' long culvert. Installation is done by SIRWCD. Upgrades from a basic installation are at the owner's expense. This program applies to replacement culverts only or a second culvert on an existing home, not new home construction or temporary culvert installations. The purpose of the program is to help improve drainage in the District.
The District's network of swales and driveway culverts is integral to the overall management of stormwater, working in conjunction with the District's canal system. District drainage relies on gravity and swales that are designed to convey and hold stormwater from landowners' property and roadways, allowing it to be released slowly into canals or to infiltrate slowly into the ground. Considered a Best Management Practice for managing stormwater, swales are important for filtering pollutants, such as phosphorous, nitrogen, nitrates, and oils, through the soil and reducing water quality impacts on nearby surface waters, such as the Loxahatchee River. In addition, swales aid in recharging groundwater, which is the source of water for our private wells.
With the District nearing 90% build-out, there has been a decrease in open land and ponds that can store water, while at the same time, more runoff is being generated. This makes the swale and connecting driveway culvert system even more important for stormwater management.
Landowners are responsible for the maintenance of their driveway culverts. Culverts should be regularly inspected by the landowner to ensure they are functioning properly and are not blocked with debris or have been crushed or damaged and may need to be cleaned or replaced. Contact the District Office at 561-747-0550 or sirwcd@sirwcd.org to schedule an inspection.
See our Permits and Culverts page for details, options and costs for the Driveway Culvert Replacement Program.

---
Updated Culvert Replacement Information
At the August 20, 2020 Zoom Video Conference, the South Indian River Water Control District Board of Supervisors voted unanimously to increase the fees for the cost of the Driveway Culvert Replacement Program if the culverts are on roadways not assessed for road maintenance. Costs will include materials, labor and equipment. For a 24" diameter 30' long culvert the cost will be $840.00. For a 24" diameter 40' culvert the cost will be $1020.00.
At the July 16, 2020 Zoom Video Conference, the South Indian River Water Control District Board of Supervisors voted unanimously to add a fee of $100 to the cost of the Driveway Culvert Replacement Program if the District must remove existing concrete or asphalt that had been previously placed over the culvert.
As of October 1, 2019, the costs for the Driveway Culvert Replacement Program to replace culverts that have collapsed, been damaged or are undersized have increased. The cost of a single basic 20 ft culvert installation is $350.00 and is $700.00 for a 21-40 ft culvert installation on a District roadway. For culverts on a county road that is assessed for road maintenance, the fee is $725.00 for a basic 24 in. diameter mitered end pipe installation (landowners are responsible for poured surface and concrete headwalls on county road driveway culverts).
Landowners are responsible for the maintenance of their driveway culverts and must notify the District when their culvert is no longer functioning properly. This is essential to ensure proper stormwater management.
However, please note that while performing road and swale maintenance or during routine inspection of the water control system, District personnel may find driveway culverts that are inoperable or undersized that have not been reported. In order to maintain proper drainage, the culvert or culverts must be replaced. In these cases, the landowner will be notified of the situation by a door-hanger and a certified letter instructing them to contact the District office to schedule a replacement installation.
Under Florida Statutes 298.66, a person may not willfully, or otherwise, obstruct any public canal, drain, ditch or water-course or damage or destroy any public drainage works con-structed in or maintained by any district.
Under the statute, the Board of Supervisors has the authority to assess double the actual cost for culvert installation for landowners who fail to pay for the culvert replacements under these situations.
For more information on the District's Driveway Culvert Replacement Program please call the District office or visit our Culverts page.


---

Jupiter Farms Resident William Dean Deeds Drainage Easement to South Indian River Water Control District

South Indian River Water Control District Manager of Operations Michael Dillon and Board President Stephen Hinkle presented William Dean with a certificate of appreciation on May 1, 2018, to acknowledge his deeding of a drainage easement on his property on Sandy Run in Jupiter Farms to the District. Mr. Dean, who established William Dean Homes in 1986, is a longtime resident of Jupiter Farms and has seen the increase in home and business construction in the area over the years. "With ongoing development and reduction in water storage areas, I felt that providing the District with an easement for maintenance, storage, and enhanced drainage was extremely important for our community," Dean said.

"The deeding of this drainage easement to South Indian River Water Control District will provide immediate benefits to the surrounding area," said Hinkle. "The Board of Supervisors is very grateful to Mr. Dean for his cooperation and contribution to improving drainage and stormwater management for the well-being of his neighbors in Jupiter Farms."

Mr. Dean is continuing to work with Mr. Dillon on other properties to determine if deeded easements would provide additional benefits when it comes to stormwater runoff and retention.

If any property owners in Jupiter Farms or Palm Beach Country Estates are interested in deeding a drainage easement to the District to help improve drainage and water storage in their area, please contact Michael Dillon at the District Office at 561-747-0550.


---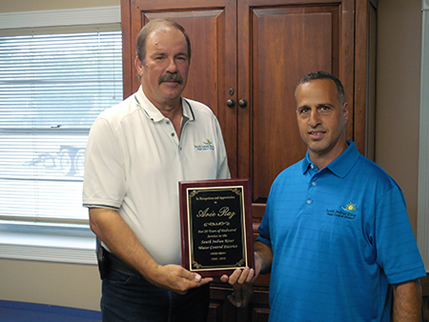 Board President Stephen Hinkle Presents Service Awards to Holly Rigsby and Arie Raz
South Indian River Water Control Board of Supervisors president Stephen Hinkle presented Holly Rigsby with a 10-year Service Award and Arie Raz with a 20-year Service Award.
Holly Rigsby began working in the District office part time in 2008, and in 2011 began working full time, taking over the office administrator position in May of 2012. Manager of Operations Michael Dillon notes that Mrs. Rigsby has been a joy to work with and she receives numerous compliments from landowners on her professionalism and great job she has done as Office Administrator.
Mr. Raz has been one of the most consistent operators over the last 20 years. He is a level 3 boom operator with a CDL license to drive our dump trucks. In addition, he assists the head mechanic in the shop when needed. Mr. Raz also receives a lot of compliments related to his mowing and in fact, landowners call requesting Mr. Raz to come and mow the drainage ditches in front of their properties. "We are extremely fortunate as a Special District to have such dedicated, knowledgeable, and professional staff as Mrs. Rigsby and Mr. Raz," said Mr. Hinkle.

Tom Powell Elected Supervisor in 2020 Election
One Supervisor was elected for a term of three (3) years. Wendy Sartory Link, as Supervisor of Elections for Palm Beach County, has certified on September 24, 2020 that the following record of the votes cast in the SOUTH INDIAN RIVER WATER CONTROL DISTRICT, ELECTION OF SUPERVISOR received on September 21, 2020 is correct according to records on file in the Supervisor of Elections Office:
Thomas Powell - 735 ballots - 1,140 votes
Write-In - 10 ballots - 12 votes
The Board of Supervisors ratified the certified South Indian River Water Control District election results at their October 15, 2020 meeting. Thomas Powell was sworn in by the District's Attorney, William Capko.
Stephen Hinkle was named President, Thomas Powell as Vice President and Jane Woodward as Secretary. In addition, the following appointments were made to the committees - Thomas Powell and John Jones as Chairs of the Budgeting Committee; John Meyer as Communications Committee Chair; John Jones as Parks, Recreation and Water Committee Chair; and John Meyer and Michael Howard as Policies and Procedures Committee Chairs.
If you have any questions contact the District office at 561-747-0550.


---
Modification to Policy and Procedure Manual Appendix 12-C Section 4
At a Zoom Board of Supervisors meeting held on June 11, the Board approved modification to Appendix 12-C, Section 4 of the South Indian River Water Control District (SIRWCD) Policy and Procedure Manual to provide clarification on drainage and irrigation connections to the works of the District and to add requirements specifically to pump connections. The District strongly discourages the use of a pump to discharge into its system. Certain hardships and conditions must be demonstrated by an applicant in order to be granted a temporary permit to discharge by pump into the District's system. A hardship shall include but is not limited to:
• Pumping to protect against imminent flood damage to permitted structures
• Protection against damage caused to livestock (equine or other) from prolonged standing water, if there are no areas available for the livestock to be moved to on the landowner's site or the landowner can provide a veterinary statement certifying that the standing water is creating harm to the livestock.
• Relief from excessive and prolonged standing water in excess of the seasonal high ground water table or pond control elevation of the property for twelve (12) days or more after a storm event.
In addition, the policy gives guidance on the permit application process. A link to the policy is provided below.
Appendix 12-C, Section 4 Modification
---
Changes to Solid Waste Authority Pick Up to Affect District Landowners
South Indian River Water Control District is not responsible for trash pickup, however, landowners following the rules from the Solid Waste Authority (SWA) help the District perform its maintenance and operational duties.
FROM THE SOLID WASTE AUTHORITY
NEW RESIDENTIAL GARBAGE CURBSIDE COLLECTION GUIDELINES WENT INTO EFFECT OCTOBER 1, 2019. Palm Beach County is going Automated. Every residential curbside customer will receive a new 95 gallon Cart that will be serviced by new specialized trucks. The cart will be delivered to your home by the hauler prior to the new contract start date, most likely in the month of September. • All garbage must be placed inside the Cart and will be collected two (2) days per week. • If a second Cart is needed, it may be purchased at a one-time cost of $65. The resident will not incur any additional collection or disposal charges and the hauler will be fully responsible for the repair and/or replacement of the Cart. • Please do not use your new Cart until October 1, 2019. • Bulk Service will be provided one day per week and limited to no more than three (3) items. Bulk items include appliances, furniture and any other large household items that do not fit in your Cart. Some residents may have more than three (3) items. Contact SWA Customer Service at (561) 697-2700 for an estimate to have the additional items removed. • Bulk Service will be provided on one (1) of your regular collection days. Debris from minor home repairs (Construction and Demolition Debris ("C&D")) will be limited to two (2) cubic yards per week. • C&D will be collected on your scheduled Bulk Service day and must be containerized (in cans or plastic bags) weighing less than fifty (50) pounds. • Containerized C&D material exceeding two (2) cubic yards will be tagged and not removed.
NEW RESIDENTIAL YARD WASTE CURBSIDE COLLECTION GUIDELINES WILL GO INTO EFFECT OCTOBER 1, 2019. Debris other than palm fronds and tree branches, such as leaves, tree and hedge trimmings, pine needles, etc. should be containerized, preferably in a garbage can, paper lawn and refuse bags, or plastic bags. Tree branches and palm fronds should be neatly stacked in a pile that does not exceed six (6) cubic yards. The Yard Waste collection limit continues to be six (6) cubic yards per week (18' Long x 3' Wide x 3' High), but under the new collection contract the hauler will no longer be servicing piles that exceed this limit. Residents are encouraged to place no more than six (6) cubic yards per week at the curb. Tree branches placed at the curb must be cut into pieces that are no more than six (6) feet in length, six (6) inches in diameter and weigh no more than fifty (50) pounds each to facilitate manual loading. Palm fronds can be any length. Piles that exceed this size will be tagged and photographed and the information forwarded to the SWA Customer Service Department. It will be the customer's responsibility to arrange for the removal of the pile by either contacting the SWA Customer Service Department or making other arrangements to have the pile removed. If you know you are going to have more, you can call SWA Customer Service at (561) 697-2700 to request an estimate to have the pile removed. We have included in our contract an established rate of $8.00 per cubic yard for the service. Upon payment, the material will be removed within 72 hours. Alternatively, you can contract with anyone you want to remove the material, or if you have hired a commercial landscaper, make sure they include removal in their quote. Why is this change being made? Your SWA yard waste assessment and collection service is intended for routine landscape maintenance, not debris generated by land clearing and tree removal activities. Piles that contain these materials, or that are excessively large, cannot be efficiently collected manually or mechanically and impede the ability of the waste hauler to provide quality, affordable service to the hundreds of other residential customers on the route. In short, this is being done to ensure that every residential customer receives a base level of service that meets the needs of the overwhelming majority of residents at the lowest possible cost. For additional information visit us on the web (www.swa.org) or Contact Customer Service at (561) 697-2700.