District Notes & News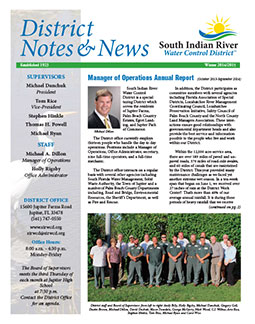 South Indian River Water Control District publishes a newsletter to keep the landowners informed on capital projects, referendums, elections, and local and regional issues that may affect the District and its residents. At the end of each year the District produces an issue with highlights from the Annual Reports of the Manager of Operations and District Engineer.
The District Notes & News is printed and mailed to District landowners and is also available in digital form on this page.
We've provided links for the current year's issues, as well as links to prior years' issues dating back to 2005 for your reference.
For additional news that is continually updated, please visit our District News page.