Palm Beach Country Estates Park
At the request of residents, South Indian River Water Control District staff prepared a Minor and Insubstantial Plan Amendment to the 13th Plan of Improvements to allow the District to provide maintenance of the Margaret Berman Memorial Park in Palm Beach Country Estates, which was approved by the Board of Supervisors in February 2011. The Board also established a yearly maintenance budget for the park.
Please call 561-747-0550 to schedule events in this park. PLEASE NOTE THAT DUE TO THE COVID-19 VIRUS THE PARK IS CURRENTLY CLOSED UNTIL FURTHER NOTICE.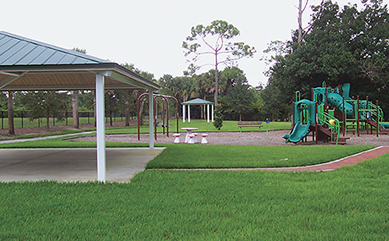 In the early 2014, Palm Beach Country Estates residents requested that the District seek the authority to construct the other planned improvements that had been approved by Palm Beach County. After determining that the District did have the ability to construct the improvements, the Board of Supervisors approved the construction of one large and two small covered pavilions, a racquetball court and a half basketball court at an estimated project cost of $295,765, to be assessed to Palm Beach Country Estates landowners at an estimated $45 per year for five years.
The construction of the three pavilions, and racquetball and basketball courts were completed the summer of 2015. The Donald Ross Landowners Association has also raised money for the playground equipment, benches and proposed fitness equipment along the walking trail. Please visit www.twistypinesplayground.org for more information.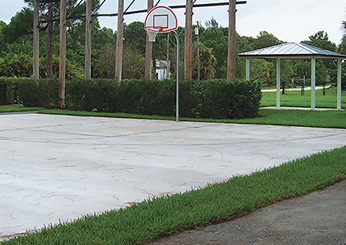 PARK RULES
PARK OPEN SUNRISE TO SUNSET
TRESPASSING AFTER HOURS WILL BE PROSECUTED
PARKING IN APPROVED SPACES ONLY
NO PARKING ON GRASS OR IN STREET/SWALE AREAS
NO SMOKING & NO ALCOHOLIC BEVERAGES
THIS IS A DRUG-FREE PARK
PETS MUST BE ON LEASH NO LONGER THAN 6 FT AT ALL TIMES
PET OWNERS ARE RESPONSIBLE FOR PET WASTE CLEAN UP & REMOVAL
NO GARBAGE RECEPTACLES ARE PROVIDED - PACK-IN & PACK OUT
PLEASE REMOVE ALL WASTE MATERIALS WHEN YOU LEAVE
$1000 FINE FOR LITTERING IN PARK
REPORT SUSPICIOUS ACTIVITY TO PALM BEACH COUNTY SHEFIFF OFFICE 561-688-3400 OR 911 FOR EMERGENCY
PARK IS OWNED BY THE SOUTH INDIAN RIVER WATER CONTROL DISTRICT 561-747-0550